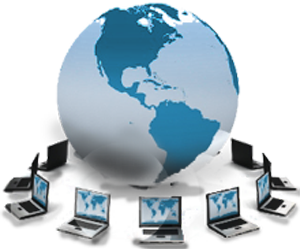 Web-hosting is a cloud-based platform enabling organizations to have an online presence. Web hosting server is the back bone of a website. Say for instance, you have a well-designed website selling quality products or services or disseminating useful information but your website is not hosted on the best server; a bad server can give you nightmares like lack of speed, insecure connection, possibility of your website being hacked, lack of digital space, server error and issues which are sure to defeat the very objectives of having a website. So, it is wise to be aware of the various issues of web hosting and select your website server service provider cautiously.

We guarantee you a world-class web hosting service at affordable cost. We have our own dedicated servers and will host your website on the same; thus your website will run on dedicated servers instead of shared hosting servers. We assure you a strong and continuous online presence and fare well in the digital world. Client satisfaction is at the core of our business model and we provide assistance whenever you need.
Our web hosting services include the following features:
(24x7)x 365 Email, Phone, Ticket, and Live Support
98.00% Network Uptime Pledge, 2% we work for server maintenance
Personal Control Panel for Easy Administration
Support PHP, MySQL , SSH Access , CGI-Bin and Latest CMS & Frameworks
POP, SMTP, IMAP and Webmail Email Service
Anonymous FTP connections
Front Page Extensions
Protected Directories
3 redundant, direct OnNet Fiber Connections
Programming technical support to host website on servers
Select Web Hosting Package
Clients say

"Sahaniya team provides support and advice as if they are my own IT team. They are handling my website and other online services brilliantly. Thanks to Sahaniya Team."

"100% satisfactory services… I never feel like I am dealing with an external IT company. I hope our partnership grows strong with every passing year. God bless Sahaniya family members."

"Sahaniya Technologies maintains high level of professionalism. They have the knowledge, expertise and patience to satisfy clients."

"High quality work, good team and timely delivery ... Sahaniya Technologies inspires trust and confidence..."

"They created an excellent website for my institute...Fantastic job...Keep it up"
HOW ARE WE DIFFERENT?

CUSTOMIZED SERVICES
We respect your budget and your dreams. We customize our services to your budget to help you realize your vision.

CLIENT SATISFACTION
Client satisfaction is the core of our operation. We strive to understand our client's needs to deliver maximum value for money & long-term return on investment.

SUPPORT LIKE IN-HOUSE TEAM
We know how important it for your organization to have trustworthy IT service. Count on us to handle your IT services like your in-house team.
What is web hosting?

Web hosting is making your website, E-commerce website, web portal live or publishing your website online so that everyone can view it on the Internet.

How much time does web hosting take?

Web hosting takes around 10-20 minutes.

What is a domain name?

A domain name locates or identifies your website on the Internet, like www.sahaniyatech.com. It is a unique IP address which serves as the address of your website on the Internet.

Who will give me domain name?

We shall buy and register your domain name from a domain name.

How to choose a domain name?

Choose a domain name that is easy to identify with your organization, like the organizations full name or acronym, abbreviation or a casual shortening of the full name. It should also be easy to remember. We shall also guide you while choosing and registering your domain name.

What do I do with multiple domain names? Do I have to get as many websites designed?

You can choose to have a single domain name, like www.abc.org, or multiple versions of your primary domain names like www.abc.org, www.abc.org.in, www.abc.co.in; you need not have to get multiple websites designed, as when you type the additional domain names, the website shall be directed to your primary domain name, that is, www.abc.org.
What is the payment process?

You can choose any mode of payment- offline through cash or cheque or online through debit/credit card or our payment gateway.

What will we have to pay for renewal after 1 year or annual maintenance?

This will depend on the selected package; kindly visit package details for the renewal/maintenance amount, if applicable.

Will you offer any discount?

No, the prices for the services are fixed. What we can do for you is to divide service charge for higher package into 2 instalments to be paid maximum within 30 days after service delivery. However, the same has to be approved by our sales team.

Is not your service charge too high?

On the contrary, given the array of services we provide, our charges are quite reasonable in comparison to the market rates.

What will happen if I do not renew my domain name by the expiration date?

If you fail to renew your domain name by the expiration date, your website and related service like email services shall be blocked and subsequently you shall lose your domain name.

Does a domain name have a validity period?

Yes. While registering your domain name you are given an option to register it for a minimum period of1 year and a maximum of 10 years. If registered for one year, you have to keep renewing the domain name for the next year or next few years to keep the name valid and registered for your organization till the expiration date.